JUST SHINE PRODUCT RECALL
Just Shine Product Recall FAQ and Statement
The following products are included in the recall: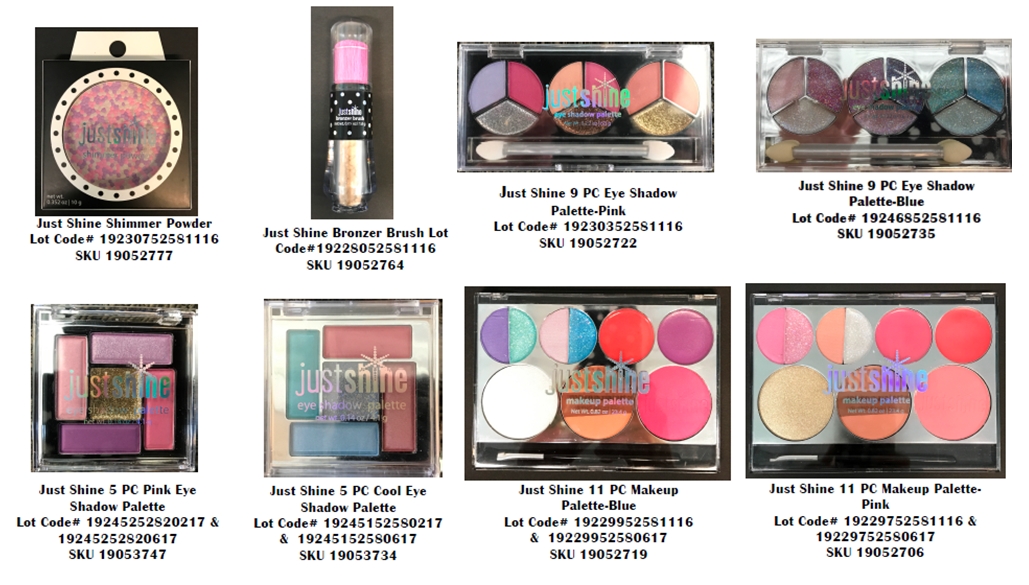 STATEMENT
Justice is committed to providing safe products to our customers. Whenever questions may arise, we take them seriously. Justice launched a rigorous and expansive investigation. That process continues at this time.
We are working with the Food and Drug Administration (FDA) and Health Canada during this voluntary recall.
The Just Shine Shimmer Powder was removed from our stores back in June when we launched our internal investigation. A small number of units (3,500) were supplied by the vendor and sold to our customers.
Out of an abundance of caution, Justice has now instituted a voluntary recall of our Just Shine Shimmer Powder. This recall has been initiated due to the reported presence of asbestos in tested samples of the Just Shine Shimmer Powder product, which Justice sold from March through June 2017.
During our testing process, one set of laboratory tests showed no evidence of asbestos. A second round of testing revealed trace amounts of asbestos.
To date, Justice is not aware of any adverse reactions, injuries or illness caused by the possible presence of asbestos in the recalled products. Based upon the available information, the product also is not likely to cause any adverse consequences. However, inhalation of asbestos over time has been linked to serious adverse health consequences.
Justice has removed the product from sale and asks customers who have the product to stop using it. In addition, we have ended sale of and recalled all eight products which were supplied by the vendor who provided the Just Shine Shimmer Powder product. Justice has ended its relationship with that vendor.
Products included in the recall are:
i. Just Shine Shimmer Powder
ii. Just Shine Bronzer Brush
iii. Just Shine Makeup Palette (11 piece – pinks)
iv. Just Shine Makeup Palette (11 piece – blues)
v. Just Shine Eye Shadow Palette (5 piece – cool)
vi. Just Shine Eye Shadow Palette (5 piece – pinks)
vii. Just Shine Makeup Palette (9 piece glitter cream)
viii. Just Shine Eye Shadow Palette (9 piece eye shadow and glitter cream)