Justice Stores
Part style studio. Part Live Justice gathering place. Our stores are the perfect place for you and your girl to come together for inspiration, fashion and fun.
Public Events
Justice Parties
Ear Piercing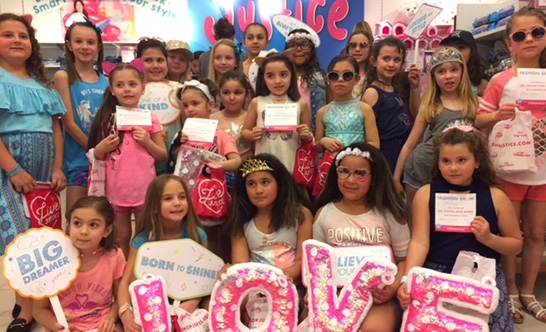 Check often: our in-store happenings are something you won't want to miss. From After-Hours Shopping Parties to Fashion Shows starring your girl, they're loads of fun and you're invited.
Select a Location

Celebrate Good Times with Styles, Smiles & so Much Fun at a Justice Store.
Throw your girl a private party for her birthday, special occasions and every accomplishment in between.

Pick a date, invite her besties, and we'll do the rest – including invitations and thank you cards.
From $25 per party guest.

Justice Parties are available during store hours for select stores.
DETAILS
FAQs
Justice Parties!
TERMS AND CONDITIONS.
IMPORTANT: The booking is not complete until (a) full payment is made in person at the Justice store in which the party will occur and (b) the below terms and conditions are signed and submitted to the store. When requesting a party date and time through our online tool, the requested date and time are reserved for five (5) calendar days] (the "Booking Window"). If payment and the signed terms and conditions are not submitted to the store within the Booking Window, your requested date and time will be released for booking by anyone.
Agreement to the following terms and conditions is required in order to book a party at Justice:
The minimum charge for any party is for 4 attendees.
The maximum number of attendees for any party is dependent on the party type. Ask your party planner for details.
Full payment is required at time of booking
No food or beverages are permitted in the Justice store.
The undersigned must confirm to the store the final guest list no later than 48 hours prior to the event. Fees for any attendees additional to those originally paid for at the time of booking will be due at the start of the event. Guest substitutions up to and including at the time of the event are permitted, but no refunds will be given for any confirmed guests who do not show.
Parties can be cancelled up to 48 hours prior to the event date for a full refund. Rescheduling of the party is subject to availability. If the party is cancelled within 48 hours of the event, no refund will be given.
In the event that the party commences 15 or more minutes late due to delayed arrival of some or all guests, the time will be deducted from the party, and one or more activities will be shortened or eliminated in order to remain within the originally scheduled timeframe. The store party planner shall determine and implement the adjustments in her/his sole discretion.
A parent or an adult chaperone must be present for the entire party duration.
Additional requests may be discussed with the store party planner prior to the event date. Approval and fulfillment of any additional requests is within the sole discretion of the store party planner, except that any requests that are contrary to these terms and conditions shall not be approved.
ONLINE BOOKING NOT AVAILABLE YET!
Stop by and book your party in a store.

Find a Store


3X POINTS ON EAR PIERCING
Sterile & Hypoallergenic
Styles for Every Girl
Our store associates are fully trained and our ear piercing system is gentle. The earrings are in a fully enclosed sterile capsule and the piercing instrument never touches the ear.

Choose piercing earring from a collection of hypoallergenic metal choices. All styles feature thin piercing posts & Safety Back™ shields for a gentler piercing experience.

See the full collection at your Ear Piercing store.
Stainless Steel
$18 90 - $32 90
Magical Favorites
$24 90 - $28 90
14kt Gold
$44 90 - $56 90
Aftercare & FAQs
Ear piercing is so exciting! We know your girl will want to try out new styles soon, but the aftercare is super important.
Be sure to follow the aftercare instructions provided in-store.
A bottle of Ear Care solution is included in the Justice Ear Piercing Starter Kit. This solution has been specially formulated to help soothe newly pierced ears.
For the best experience, keep piercing earrings in for 6 weeks.
Check Out Our FAQs
Is it safe to get ears pierced in the store?
Our store associates are fully trained and our ear piercing system is gentle and sterile. The earrings are in a fully enclosed sterile capsule and the instrument never touches the ear.
How long should the piercing earrings stay in?
It is recommended to leave piercing earrings in for 6 weeks after an earlobe piercing. Up to 6-months after the 6-week period, she should not go without wearing earrings for more than 24 hours.
Is it OK to change earrings or take them out during the aftercare period?
She'll want to try new styles, but newly pierced ears are very sensitive. It's important to follow the aftercare tips and keep the piercing earrings in her ears up to 6 weeks.
She already has her ears pierced. Can you do a 2nd or 3rd piercing?
We can complete multiple piercings as long as there is space on her ear lobe before the cartilage starts. This will vary from customer to customer and it's up to the store associate's discretion.

DETAILS FOR CLUB JUSTICE 3X POINTS
Valid with purchase of an ear piercing starter kit for Club Justice members only, in participating U.S. Justice stores through 7/27/2019. Limit one Club Justice bonus points offer per transaction. Highest eligible Club Justice points bonus offer will be applied. Points are calculated based on the purchase price of the item(s) after discounts and coupons and before taxes and fees are applied. Points will be calculated and applied to accounts within a week of promotion ending. Points rounded down to the nearest whole dollar amount. Redemption of gifts, previous purchases, existing special orders, charity items, gifts-with-purchase, giveaways, credit card payments, processing charges, delivery surcharges, shipping and handling, taxes, or state and any other applicable governmental fees will not accrue points. Reward points earned at the time of purchase will be deducted from returned merchandise. In the event of a return or exchange, triple reward point offer will be forfeited and may not be reused. Terms and Conditions apply.
DETAILS FOR CLUB JUSTICE
Club Justice is open to legal residents of the 50 U.S. and D.C. who are age of majority only. Requires valid email address and phone number. Void where prohibited by law. Purchase requirements, point limitations and reward restrictions apply. Justice Rewards Program is subject to full Program Terms at www.shopjustice.com/ClubJustice/Terms ,which require binding arbitration of claims involving Justice related to the program. Information collected in the program is subject to the Justice Privacy Policy at: http://www.shopjustice.com/customerservice/privacy.